Are you noticing your eyelids have become droopy and would like them tightened and lifted?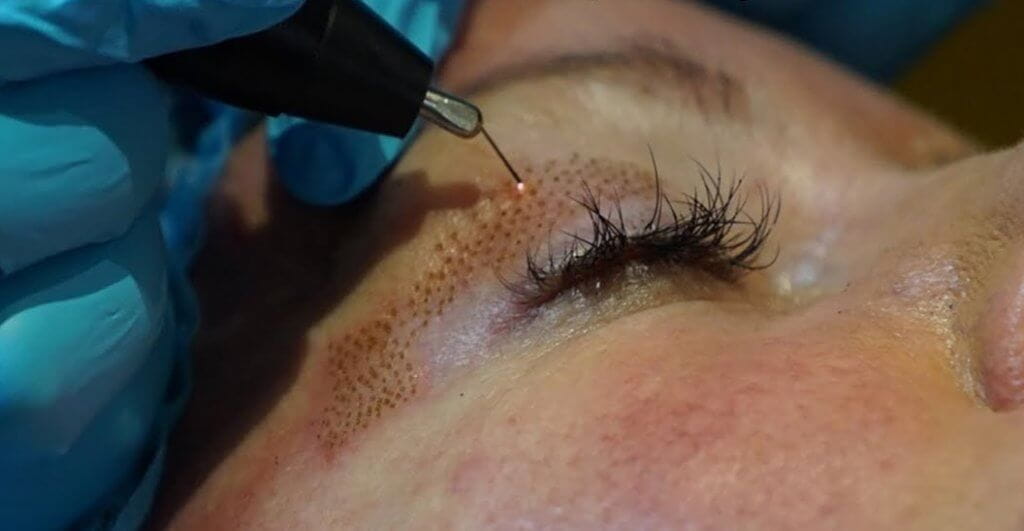 As experts in Plasma Pen treatments, we offer this revolutionary non-surgical droopy eyelid lift treatment that is proven to quickly reduce droopy eyelids. It's a 40 – 50 minutes, with minimal discomfort, that tightens your lids with immediate and long lasting results.
One of our highly trained therapists will use a Plasma Pen device to create tiny red wounds on the eyelid, which initially show as small red dots, around the dedicated eye area. The dots are about the size of a micro-millimetre dot. The process increases collagen whilst tightening and lifting the skin in its' immediate vicinity.
Droopy Eyelid Lift
The droopy eyelid lift using Plasma Pen, is a delicate yet simple procedure which tightens the skin and instantly lifts and tightens the droopy eyelids. The lids stay tightened and lifted over a number of years. The treatment itself to lift the eyelids involves using the ionisation of gases in the air which form Plasma. The highly advanced Fibroblast Plasma Pen generates an electrical arc which is directed by the plasma technician around the eyelid area. So, without the device ever touching the surface, a reaction and retraction is caused just under the the skin causing. This causes the skin on the eyelid to tighten, pulling the lids up.
Lift my lids/hoods up
Treatment time: 40 – 60 mins. This treatment involves the use of a Fibroblast Plasma Pen and is an alternative to invasive surgery. It's quick and comes at a fraction of the cost.
What we recommend you do now
The starting point for any Plasma Pen treatment is to have a 45 min consultation (£45, refundable against treatment), with one of our fully qualified Plasma skin therapists. This consultation will include a thorough skin analysis, and patch test. We will also discuss any relevant medical history and establish if there are any contraindications to treatment, as well as pre and post care procedures. The consultation is the opportunity to discuss any concerns or questions you may have about the treatment. Once the consultation has been completed, you can then book your Fibroblast Plasma treatment.
Book for Better Skin