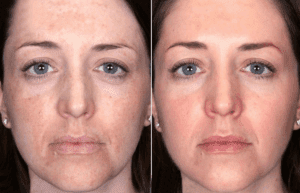 PRX-T33 – Like a Chemical Peel, but no downtime.
If you know about or have tried traditional Chemical Peels you will know of the many benefits they have to your skin. However, we now offer the PRX-T33 that compliments our range of Chemical and Acid Peels.
Skin issues resolved with PRX
Scarring from acne or chickenpox
Stretch marks
Wrinkles and fine lines
Pigmentation and discolouration
Loose / dry / ageing surface skin
But the beauty of PRX is that there is, no pain associated with the treatment, no downtime, no peeling and no sensitivity to the sun. It is an all year round skin treatment.
Get Better Skin
What is in a PRX-T33?
Utilising the peeling agent Trichloroacetic Acid (TCA) and Hydrogen Peroxide (H2O2), you can receive amazing skin regenerative qualities as the unique composition of the PRX solution almost instantly penetrates the Dermis. This process activates skin regeneration and renewal without damaging the epidermis. The amazing formula does not affect the surface layer of the skin only, but penetrates deep inside – acting on the epidermal skin layer and basal layer. The result is skin that is fresh, youthful, and glowing, without the awkward period of sloughing off skin!
How many treatments?
A consultation is necessary prior to any PRX-T33 treatment as your skin will need to be assessed. During the treatment itself, the PRX gel peel will be applied to the designated treatment area(s). The medical skin peel treatment is pain-free, non-invasive, and only takes 10-15 minutes. Results are visible immediately after the procedure; however, most patients see the greatest benefit from 3-5 treatments approximately 1-3 weeks apart.
Discounts applicable for a course of treatments.
Get Better Skin
Recent Testimonials for PRX
"The PRX treatments I have are always wonderful. You really can see the difference. I'm always so thrilled with the results. Also, the staff are always so lovely and welcoming."
"Fantastic facial, Jacqui is so knowledgable and a lovely therapist! Highly recommend, my skin looks fabulous."