Rapid and affordable non surgical restoration of the nose allowing you to have the altered shape that you always wanted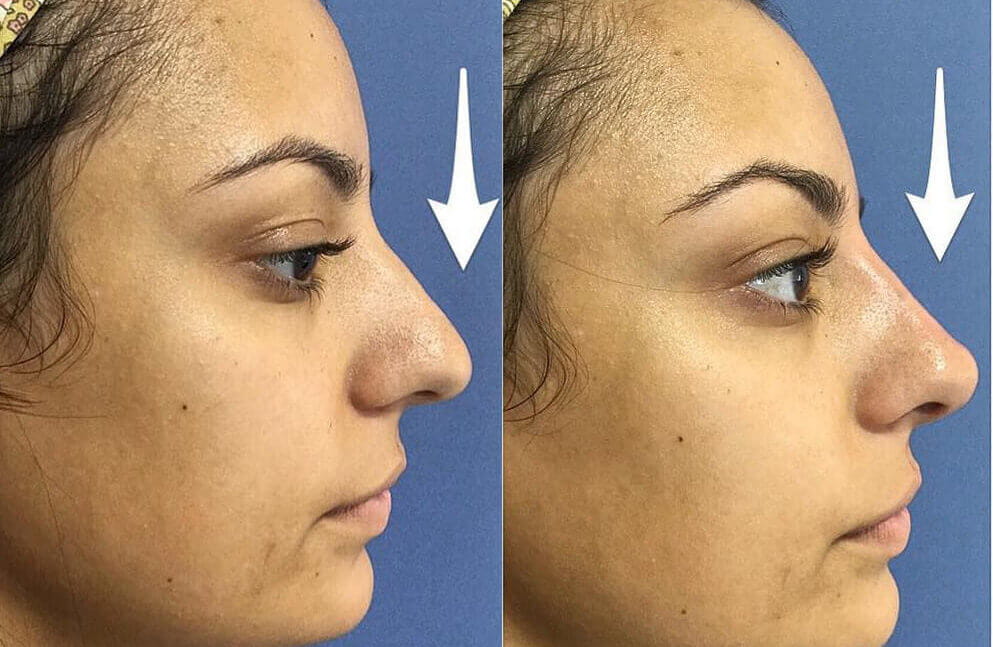 A Non-Surgical Rhinoplasty treatment (nose job) is an instant correction to improve the height of nose bridges, reduce the appearance of bumps and correct asymmetry.
With minimal discomfort, this Dermal filler nose enhancement is an advanced quick treatment ( around 15 minutes) and is performed by our award winning doctor to reduce the risk of asymmetry and to produce an aesthetically beautiful outcome.
Performed safely by Dr Maryam McMillan, there are minimal risks and can dramatically improve an overall appearance of ones face.
The exact price on consultation.
Get Better Skin
Non Surgical Rhinoplasty Treatment
Flat or low nose bridge: Some ethnicities (e.g. from north-east Asia and China) naturally have a lower nose bridge.
Crooked, hooked noses with dorsal humps: A crooked nose can be congenital (i.e. present from birth) or can occur through injury. Hooked noses or those with a hump can be smoothed out with this non-surgical Rhinoplasty treatment.
Ski slope: Noses with an aesthetically pleasing bridge and tip can be deficient in between, resulting in the 'ski slope' nose. This condition is improved via Dermal Filler to straighten the mid-section of the nose.
Rhinoplasty revision: Quite often following a surgical Rhinoplasty procedure the nose has minor bumps or asymmetries that can be easily improved with a non-surgical nose job.
Recreational drug use: The consumption of recreational drugs through nasal passages can erode the septum and nostrils. These areas can sometimes be augmented via Dermal Filler.
Dermal Fillers by our Cosmetic Aesthetic Doctor
Our Dermal Filler treatments are carried out by Dr Maryam McMillan (Hons) BDS MFGDP RCS (Eng) has, since 2004, been practicing in the field of facial aesthetics. Recently she was nominated as a finalist in the National Aesthetic Dentistry Awards – in all 3 Facial Aesthetics categories.
Book for Better Skin
Dr Maryam has a true passion in the fields of advanced facial aesthetics, anti-ageing treatments and cosmetic dentistry. Along with her high level of training and experience she provides personalized, high quality and professional advanced facial rejuvenation treatments.