Are you looking to remove eyebag bags and wish to avoid having surgery?
As a multi-award winning clinic, offering the safest result driven treatments, we are highly qualified to carry out the very delicate non-surgical eyebag removal. The removal of the eyebags, using Fibroblast Plasma, is the most common in the clinic due to the care in how it is performed and the dramatic results achieved. The short treatment, means there is not the high cost of surgery. With no knife involvement there is no extended downtime associated with the reduction of eyebags from plastic or cosmetic surgery.
Improve my Eyebags
Affects of Eyebag Removal
Non-ablative Blepharoplasty (removal of eyebags) using Plasma, means that in just one to three treatments, you can see stunning results. There will be a significant reduction in any puffiness or saggy skin under the eyes, leaving smoother, hydrated and more youthful skin. The treatment is performed under a local cream anaesthetic and so only occasional discomfort is felt. During the days and weeks following procedure, you will see and feel the skin under your eyes continue to tighten and flatten. The Fibroblast plasma treatment just keeps on working.
How does it Work?
The eyebag removal treatment involves using the ionisation of gases in the air which form Plasma. The highly advanced Plasma Pen generates an electrical arc which is directed around the bottom of your eyes. So, without the device ever touching the surface, a reaction and retraction is caused just under the the skin causing the skin to tighten. This tightening effect pulls tight any of your saggy or puffy skin causing it to flatten over time.
Improve my Eyebags
Treatment time: 30-40 mins but may take longer depending on the size of the area being treated. This treatment involves the use of a Ib pro Plasma (sophisticated pen device) and is an alternative to invasive surgery. It's quick and comes at a fraction of the cost.
Treatment for Eyebags using Ib pro Plasma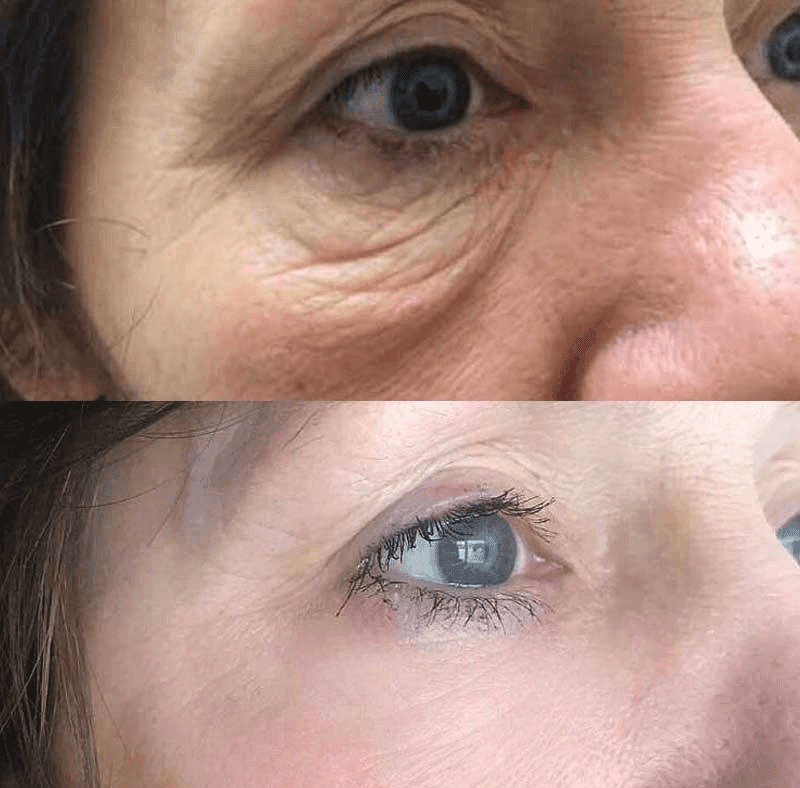 What we recommend you do now
Start with a skin consultation with one of our award winning Fibroblast Plasma Pen skin therapists. They will want to know of any relevant medical history and establish if there are any contraindications to this treatment. They will also explain any pre and post-care procedures. The consultation is the perfect opportunity to discuss any concerns or questions you may have about the treatment.
Improve my Eyebags