Are you looking to remove wrinkles, frown lines or deep folds? Is your face starting to show signs of ageing and you want to look and feel younger?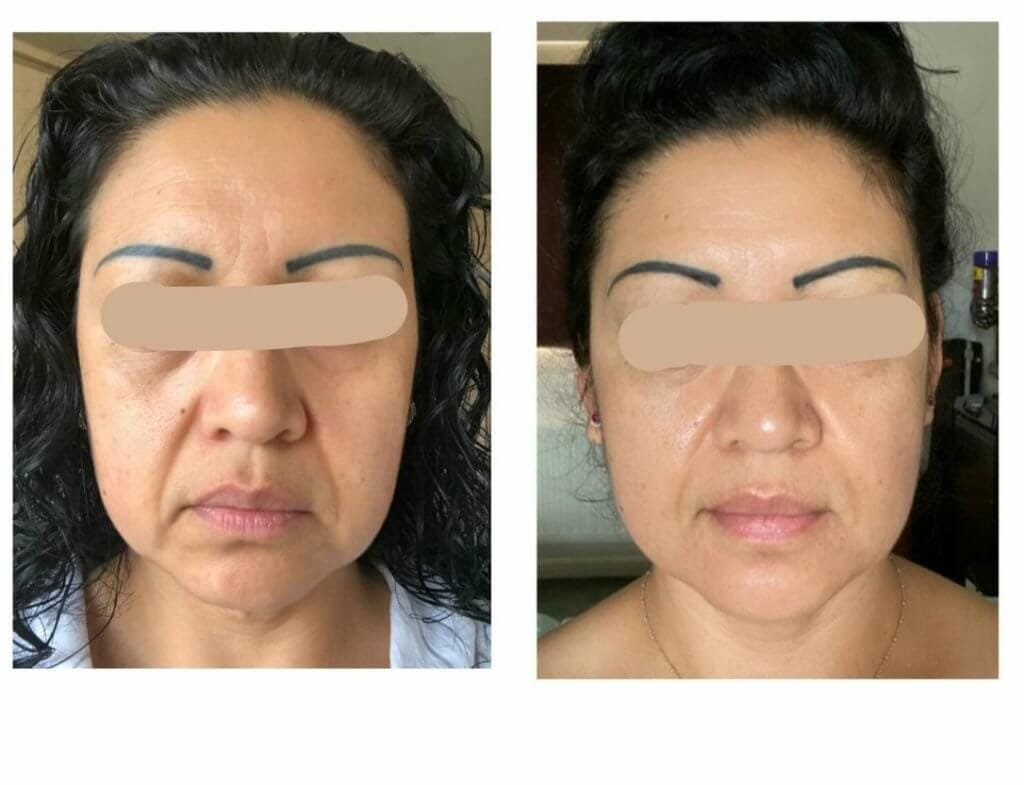 Facial deep folds are an unfortunate sign of skin ageing caused by the lack of collagen and elastin in the skin. Nasolabial folds, commonly known as "smile lines" can be particularly prominent. These folds can be either one or both sides of the nose and run down towards the mouth.
•No injectable anaesthetic required
•No scalpels, no cutting and no ablation of the skin
•No stitches and suturing required
•Very low risk procedure
•Minimal side effects and very short downtime
•Quick & easy procedure with rapid recovery
•Most patients able to return to work the same day
•No thinning of the skin
Plasma treatments have been around a while but it is only recently that we have been able to use Fibroblast Plasma Pen as a safe, non-surgical treatment to remove facial deep folds. There is minimal discomfort and the results can last as long as 3-5 years, depending on aftercare management at home. The downtime, post treatment, is also significantly less than having a surgical procedure which can produce similar results. The affects will keep improving with the very best results visible in 3-12 weeks.
Your skin tightens within the areas of concerns with immediate results.
Our highly trained therapist will use the Fibroblast Plasma Pen to create tiny plasma flashes between the pen and your skin, resulting in a micro-millimetre sized dot.

Facial Deep Folds reduction
A series of small brown spots are strategically placed in the specific areas of the face to attain the desired result. This increases collagen and minimises the skin in its immediate vicinity. Collagen is responsible for skin strength and elasticity and its degradation leads to wrinkles that accompany ageing. This is why the Fibroblast Plasma facial deep folds treatment is so successful because it stimulates collagen, improves skin elasticity whilst plumping and smoothing the skin.
Get Better Skin
How will the Treatment Benefit my Skin?
The benefits to your skin will be shown by a tightening of your skin which pulls out the wrinkles and deep folds. You will also notice an improvement in skin tone, laxity, texture to produce a more youthful and contoured appearance within days. Any saggy skin in the area will be removed. The Fibroblast Plasma Pen successfully treats, repairs, rejuvenates and lifts ageing skin. The deep fold reduction will reduce the appearance of lines and wrinkles and effectively reverses hyper-pigmentation, discolouration and photo-damaged skin.
Treatment time: 30-40 mins but may take longer depending on the size of the area being treated. This treatment involves the use of a Fibroblast Plasma Pen and is an alternative to invasive surgery. It's quick and comes at a fraction of the cost.
What you should do now
If you are serious about repairing your skin – the starting point for any treatment is to have a 40 min consultation with an experienced skin expert. This consultation will include a thorough skin analysis, patch test and a skin scan. The fee for this advanced consultation is just £45.
Book for Better Skin