Do you want to have brighter and smoother skin?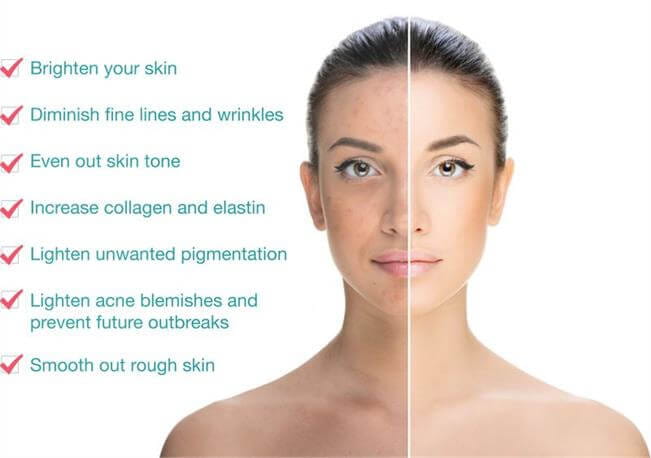 Our Superficial Chemical Skin Peels are used to minimise fine lines and wrinkles, sun damage, mild acne scarring, age spots and dry or flaking skin. They are usually made from alpha hydroxy or beta hydroxy acids, known as AHA's and BHA's and include glycolic acid, lactic acid and salicylic acid.
A course of between six and 10 Skin Peel treatments is usually recommended to achieve the best results. Chemical Skin peels only remove the epidermis (top layer of skin) and will leave your skin looking instantly brighter, smoother and with an even texture.
A Selection of Chemical Skin Peels (medi-facials)
Each Skin Peel treatment is customised to suit the individual, targeting your skin's needs and concerns; whether it's anti-ageing, acne, oily, normal, dry and dehydrated skin types or uneven skin/texture. Chemical Skin Peels (medi-facials) differ from traditional facials due to the quality of the Cosmeceutical products used which provide superior skin results.
They may contain some of the following types of treatments below:
Corrective Skin Peel treatment
A bespoke custom blend of paraben-free hydroxy acids, enzymes and vitamins which remove dulling surface debris. This will stimulate cell renewal leaving a healthier and smoother complexion.
Corrective Skin Peel treatment
A bespoke custom blend of paraben-free hydroxy acids, enzymes and vitamins which remove dulling surface debris. This will stimulate cell renewal leaving a healthier and smoother complexion.
Sebum Soak Peel Treatment
An intense deep cleanse which softens plugs in the pores.
Oxygen Infusion
An instant brightening and hydrating treatment, perfect for a party or event. Gives dehydrated, tired skins a real boost, giving you the celebrity 'red carpet' glow.
Transderm Mesotherapy
A safe and painless needle-free way of introducing collagen, vitamin C, oxygen and hyaluronic acid safely to the skin's dermal layers. By taking dermal fusion to an unprecedented level, we can customise the procedure to work in parallel with other high grade serums and infuse for optimum
results. This treatment gives the skin a plumper, hydrated, smoother and more toned look and feel.
Firming Peptide Mask
This treatment combines peptides, antioxidant and dermal regeneration science.
Get Better Skin
AlumierMD Skin Peel treatments
A unique experience that includes an exfoliating peel treatment and brightening enhancement followed by prescriptive Targeted serums which reveal a more radiant soft and luminous skin.
Detox Clear treatment kills bacteria in 30 seconds, minimises pore size appearance, decongests, reduces acne and prevents new pimples from forming.
Radiant 20/10 treatment exfoliating & healing in one, targets acne pimples, fine lines, wrinkles, large pores & sun damage.
Radiant 30 treatment targets multiple concerns including fine lines, wrinkles, sun damage & large pores.
Get Better Skin
AlumierMD Glow Peel Treatments
These remarkable treatments have a unique complex of ingredients containing lactic acid, salicylic acid and resorcinol, which exfoliate dead skin cells and stimulate the cell renewal.
Further wonder of the Glow Peels are that it helps minimise fine lines and wrinkles, address hyperpigmentation and calm irritation / redness. It also targets age spots, large pores / blackheads, discoloration and uneven skin tone.
Get Better Skin
DMK Pro-Alpha Six Layer Peel
Advanced resurfacing works to strengthen, firm, and restore the skin, revealing a youthful, healthy and clearer complexion. Designed to revise sun damage, pigmentation, enlarged pores and fine lines.
Book for Better Skin
PRX-T33 Peel
The PRX treatment is close to a Chemical Peel but has so many more benefits.
It achieves remarkable results for those of have skin concerns such as
Scarring from acne or chickenpox
Stretch marks
Wrinkles and fine lines
Pigmentation and discolouration
Loose / dry / ageing surface skin
But the beauty of PRX is that it is non-invasive, has no minimal pain, no downtime, no peeling and no sensitivity to the sun. It is an all year round skin treatment.
What is in a PRX-T33
Utilising the peeling agent Trichloroacetic Acid (TCA) and Hydrogen Peroxide (H2O2). The treatment process activates skin regeneration and renewal without damaging the epidermis. The amazing formula does not affect the surface layer of the skin only, but penetrates deep inside – acting on the epidermal skin layer and basal layer. The result is skin that is fresh, youthful, and glowing, without the awkward period of sloughing off skin!
Your treatment
An initial skin consultation is necessary prior to the PRX-T33 treatment. The PRX gel peel is applied to the designated treatment area(s). The treatment takes 20 minute with results visible immediately after the procedure. Best results are shown from 3-5 treatments approximately 1-3 weeks apart.
(discounts applicable on a course of treatments)
Get Better Skin
Book for Better Skin
Each persons skin is different in the way it is made up and there will be different skin issues that people would like treated first. You will therefore, need an in-depth skin consultation and analysis to determine if a Skin Peel / Chemical Skin Peel is the right treatment for you.
What we recommend you do now
The starting point for any Chemical Skin Peel treatment is to have a 45 minute consultation to analyse your skin and discuss your hopes. We can then determine whether the treatment is suitable for you. Cost of the consultation is £45.00.
Book for Better Skin