AlumierMD allows us to provide you with Advanced Bespoke Skincare plans for your Treatments and Homecare.
AlumierMD has changed the lives of so many of our clients. If you are concerned about your skin and feel that it is lacking life and looking dull, then we can discuss with you about how Alumier will literally transform your skin and your life.
AlumierMD targets and treats a variety of skin care concerns, including:
– Reducing the signs of ageing.
– Sun damage.
– Rosacea.
– Hyperpigmentation (dark patches on the skin).
– Acne and related issues, including large pores and oily skin.
– Dry and uneven skin.
Get Better Skin
Alumier has created effective formulations containing the correct percentages of the highest-grade active ingredients to be used on all Fitzpatrick skin types (I-IV). The products and treatments tackle a multitude of skin concerns which provide you with progressively a more youthful and glowing skin.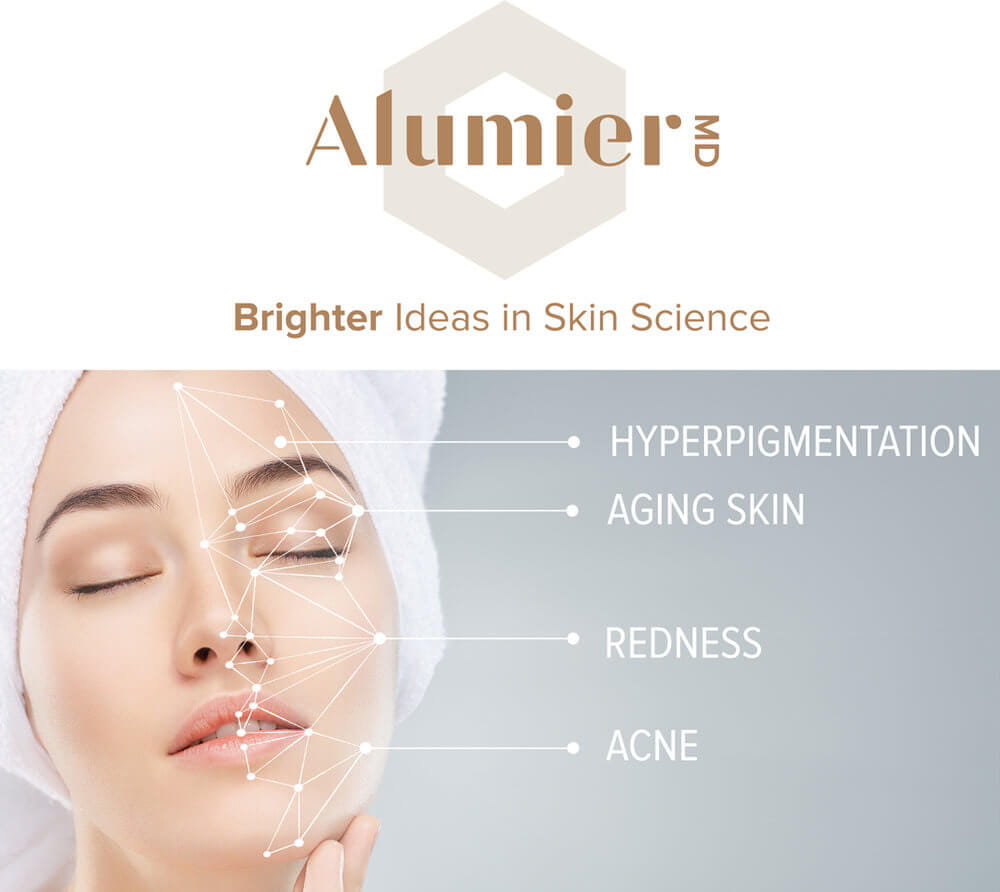 Intrinsic Ageing or Extrinsic Ageing
Intrinsic ageing, known as natural or chronological ageing, normally begins in our mid-20s and is determined by genetics. Extrinsic ageing accounts for up to 90% of skin ageing and is largely controllable. The most common causes are:
Sun exposure – the major cause, often referred to as Photo-ageing
Pollution and environmental stressors
Lifestyle choices, such as smoking and alcohol consumption
Stress
By having Alumier MD treatments and products, you can reverse some of this damage and prevent future negative effects on the skin.
What does ageing skin look like?
While the visible aging process varies from person to person, some common skin changes include:
Dehydration
Dull appearance
Rough texture
Fine lines and wrinkles
Hyperpigmentation
Lack of firmness
Loss of fat and fullness
Loss of elasticity or a slower "snapback" when skin is pulled
Get Better Skin
Recent client reviews for AlumierMD
"The best skin treatment I have ever received. Marina is a top therapist. I don't ever want to go anywhere else! I'm addicted :)"
"Marina is one of the nicest ladies I've ever met and an amazing therapist! She is so committed and really cares about your journey! Jacqui is also lovely and such a friendly and helpful team wanting the best results for you. Highly recommend and so glad I found! Thank you! Alisha B "
Skin conditions we treat with AlumierMD
Hyperpigmentation
Hyperpigmentation occurs when excess melanin causes a darkened appearance to the skin in either small or large areas. Pigmentation is the natural color of a person's skin and it is related to melanin production. Melanin protects skin cells and their DNA by absorbing the sun's ultraviolet rays (UVR). Darker skin types, in general, are more susceptible to hyperpigmentation than lighter skin types because their skin naturally contains more melanin.
Rosacea
Rosacea is a chronic skin condition characterized by facial flushing, redness, telangiectasias (visible vessels), bumps and pimples. Rosacea is most often seen in fair-skinned people between the ages of 30 and 50 and typically affects the cheeks, nose, forehead and chin. It is more common in women but more aggressive in men. Click here for more information and our treatment of Rosacea.
Sensitive Skin
Individuals with a heightened intolerance to products and the environment are said to have sensitive skin. They may experience redness, discomfort, bumps and irritation.
Causes of sensitivity include: Skin disorders like eczema or rosacea; overly dry skin due to a compromised hydrolipid barrier; over exposure to irritants like wind, sun and harsh topical ingredients. In all cases, the skin's moisture barrier is impaired, which leads to dryness and irritation.
Large Pores
Sebum (oil) is produced to protect our skin, making it waterproof and preventing it from becoming dry. Oil glands produce sebum that moves through the lining of each pore and then onto the skin's surface. If overproduced, that oil mixes with dead skin cells in the pore and causes clogging and swelling.
Large pores can also be a result of an ageing skin. The production of collagen and elastin decreases with age and a loss of elasticity makes the pores appear larger. Gender and genetics are also factors. Men generally have larger pores than women, although hormonal fluctuations in females may contribute to enlarged pores.
Oily Skin
Oily skin is caused by the overproduction of sebum (oil) and is associated with acne (pimples), large pores, blackheads and a noticeable shine to the skin. Genetics and hormones play a key role in how much oil our skin produces.
Dry Skin
Dry skin is characterized by a lack of moisture and natural oils in the epidermis and can cause scaling, itching and fine lines. Dryness is usually related to a skin barrier issue that allows excess moisture to escape. This issue is referred to as increased transepidermal water loss (TEWL).
The main causes of dry skin are: Winter weather; ageing; genetics; hot showers; excessive exposure to water and harsh soaps; the sun.