Do you have unwanted skin tags? Are they affecting your self-esteem?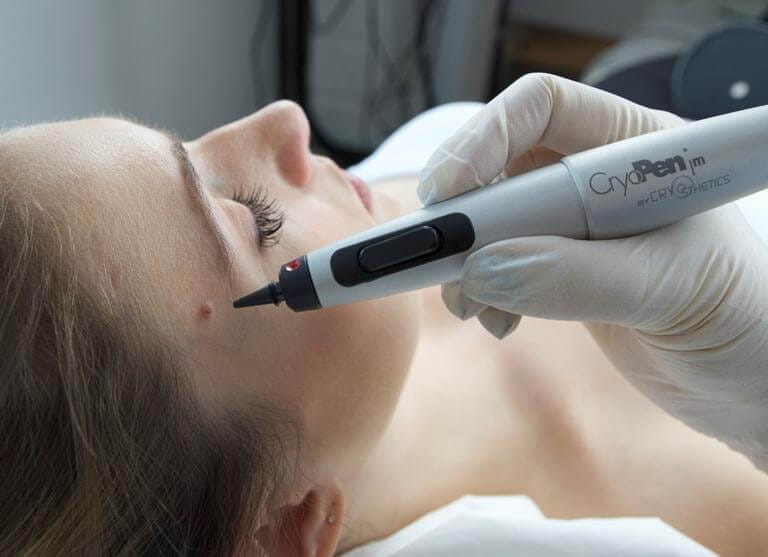 NHS cannot remove Skin Tags, but the good news is … we consult and remove Skin Gags every day of the week.
Skin tags are common brown coloured growths that can appear anywhere on your body but are most commonly found on your face, eyelids, armpits, groin, and underneath the breasts. They are usually small but some can grow to around 30 mm in size.
Although harmless and benign, it's still unknown what causes your skin tags to appear, although they are known to be more common in older people and those with diabetes. Tight fitting clothes are also thought to be a contributing factor, hence why they are often found around the neck line, groin and under the breasts.
Click to Book
What treatment is used to remove Skin Tags?
The skin therapists will consult with you to determine the safest way to remove the tags with the most minimal discomfort. It may be decided that at treatment of Fibroblast Plasma Pen, Cryotherapy or Theramvein will produce the most satisfactory outcomes.
We keep the costs as low as we can (a fraction of London's skin tag removal prices), in order to make the treatment available to as many as possible.

What's the process for removing skin tags?
Following the necessary filling out of the health, safety and consent forms, we will clean the skin tags to be removed. No anaesthetic is necessary before we begin treatment. Depending on the size of the tag or tags, we may use one of three successful methods to remove the tags for good.
Treatment time and cost: This will vary slightly depending on the size and number of skin tags.
What we recommend you do now
We offer a free phone call or free 10 minute consultation to answer your questions prior to making any booking. The treatment itself should take no more than 10 minutes depending on the size or how many tags.
If you are under 17, you will need parental/guardian consent and for them to be present.
Click to Book
Tessa B – "This treatment has helped my little girl so much. She's happy again. She had warts on her hands and skin tags on her face, now her face is clearing up and warts are coming off."