Do you suffer from Rosacea?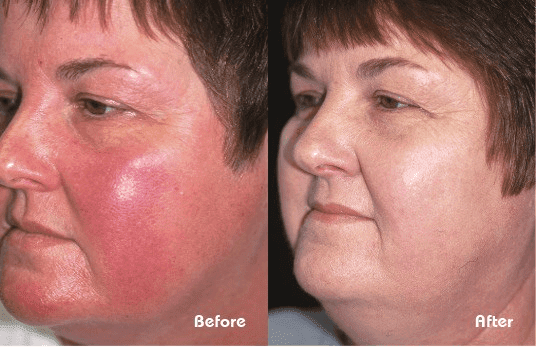 A Rosacea treatment had previously been a little "hit and miss" with nearly every skin clinic in the world. Dermatologists tend to lean towards antibiotics which is not really a long term solution.
At BeauSynergy, we are now managing Rosacea consistently through clinic treatments and paramedial homecare. DMK like to say that we are capable of putting Rosacea into "controlled remission". Danne DMK and AlumierMD are both world leaders in providing the education, in-clinic treatments and home care paramedical protocols to control Rosacea.
We have here an article written by Dr Montague King (DMK) discussing the problem of Rosacea and how we, as an advanced paramedial clinic, can treat the symptoms to make significant changes to your skin.
This will vary person to person based on a personalised treatment plan. Full details will be discussed during your initial consultation.
What we recommend you do now.
The starting point for any Rosacea treatment is to have a 45 min consultation with an experienced skin expert. This full consultation will include a skin analysis and skin scan. We discuss any relevant medical history and establish if there are any contraindications to treatment, as well as pre and post care procedures. Once the consultation has been completed, your skin technician will confirm the treatment plan and book your Rosacea treatments. A consultation will cost just £45.00.
Book for Better Skin