How to Get Rid of Acne Scars
Many of us, even if we are older can wear the results of our teenage years on our face. Acne is common in teens, with as many as 85% suffering in their youth. While most people grow out of this relatively quickly, for some, the scars from acne can last a lot longer than the transition to adulthood. Here we look at how to get rid of acne scars.
What are Acne Scars?
Acne scars come in different shapes and sizes. They are the marks left on the skin after any spot, pimple or cyst has healed. The skin may appear uneven in texture, or may have deep pits or marks.
The most common types of acne scars are:
Ice pick scars – these are often small and deep scars, commonly found on the face. They can resemble an ice pick having touched the skin and left the skin pitted.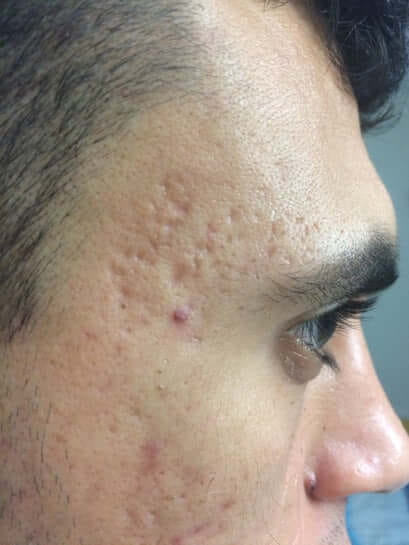 Atrophic scars are very common and can affect large areas of the face. These are shallow and leave the skin looking mottled and uneven in appearance.
Rolling – these are broader with a sloping edge. Unlike ice pick scars and frequently less deep.
Boxcar – these are similar to rolling scars, but with sharply defined edges to them. These defined edges can make them look more prominent.
Keloid or hypertrophic are raised lumps on the skin, rather than depressions. Some people are more prone to this type of scarring than others.
Uneven pigmentation may also be a result of acne scarring. Pigmentation can leave the skin looking darker or lighter in the places where the acne once was.
How do you Treat and Remove?:
Thankfully, nobody has to live with the lingering reminder of childhood acne. There are many aesthetic treatments available to treat the different types of acne as well as to remove acne scars of all kinds. We are often asked "what is the best treatment for to reduce acne scars" Thankfully there are treatment options which can be discussed at any skin consultation at BeauSynergy.
Chemical peels for acne scars – these are great for removing old skin and the outermost layers of the epidermal skin, helping to reduce the appearance of acne scars and remove any pigmentation. Here at BeauSynergy, we have a range of different chemical skin peels, from mild to more intense. In order to treat and remove acne scars you would first have a consultation with one of our skin health experts who can advise on the best course of action. A short course of treatments are recommended for the very best results.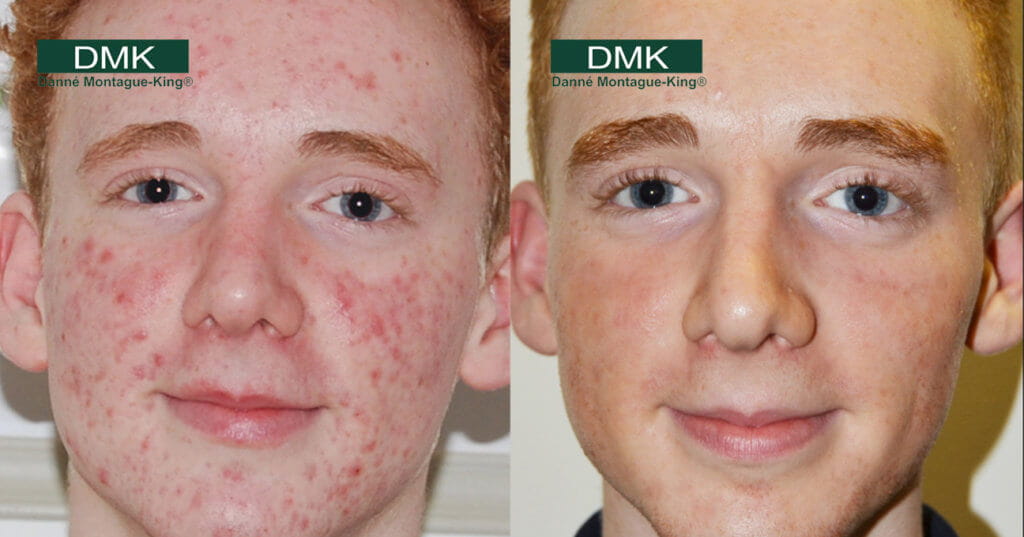 Microneedling (Skin needling), using our Skinpen treatment, is often the best treatment to treat acne scars. The treatment has minimal discomfort, is relatively quick and continues to boost collagen over time. The gradual process will reduce the appearance of most acne scarring, leaving the skin unblemished and smooth to the touch. Such is the success of this treatment, it can even help to reduce the appearance of deep, ice pick scarring caused by acne.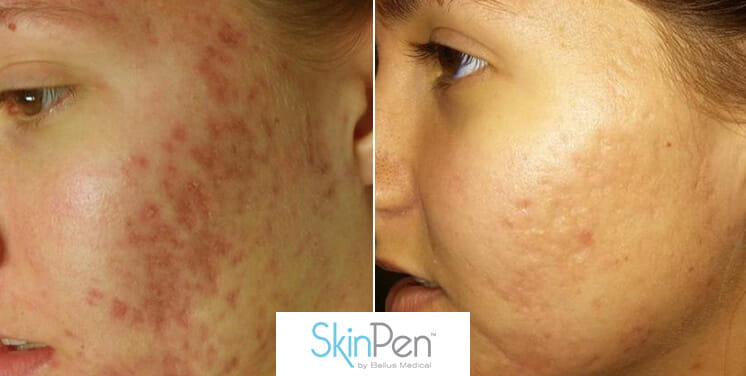 Plasma Pen treatments for acne. This is a re-surfacing treatment uses plasma to vaporize the outer layers of the skin, revealing fresh and new skin underneath. This treatment also helps to boost collagen, which works to plump the skin, filling out the scarred areas and creating a much more even surface.
A consultation with one of our consultants is the first step to discover the best treatment for acne scars – we may suggest one course of treatment, or a combination of the above for optimal results to clear your acne scars.
What is good for Acne Scars?
If you are suffering from acne scars, general good skin health techniques should always be used, including drinking lots of water and making sure your diet is full of vitamin C and vitamin E . Also, a great skincare routine can help to ensure your skin is in its best shape possible. When skin is healthy, it will produce more collagen, which helps plump and nourish the skin, diminishing the appearance of acne scars.