Are you looking for a GDC dentist to get your teeth natural White? Would you like the price to be great value?
Teeth Whitening or Tooth Whitening is an external procedure performed by our registered GDC dentist, Dr Maryam McMillan). The process involves applying a bleaching agent to the outer surface of the tooth in the following ways:
Impressions are taken of your teeth so customised whitening trays can be produced to fit comfortably and securely.
When ready, you will wear these at home with a bleaching gel for a specified length of time each day.
After completing the treatment, which will take a few weeks, you will attend a follow-up appointment to check your teeth have been successfully lightened.
Book Appointment
Why use our Teeth Whitening Kits
Your professional home whitening treatment is a superior alternative to kits that can be bought over-the-counter The mouth trays are designed to be a perfect fit, which allows the active gel to work more effectively. The bleaching agent is also stronger and offers enhanced lightening power. This can only be performed by a GDC registered and experienced dentist, such as ours.
By using the teeth whitening trays / moulds that we supply you, and performing the whitening process, you can keep a close eye on your teeth and help avoid side effects such as gum irritation and tooth sensitivity.
What is the Teeth Whitening Process?
When you meet the Dentist, she will supply you the mould in which to make your teeth impression.
The mould of your teeth will be sent to the lab. The lab will produce the necessary trays that exactly fit your teeth
You will have been told the process of what do by the dentist but you will also have instructions.
You fill the moulds with the necessary approved, safe bleaching gels and plavce the trays carefully in your mouth. These trays should be worn as instructed during the day. This can sometimes be for a few hours a day over a period of days
You will see the affects clearly as the days go on.
What we recommend you do now:
Call for an appointment. Outline your wishes to the team at the clinic.
If all seems satisfactory, then you can make your appointment. You will need to pay a holding fee of £50. This will act as a deposit and refundable against the total cost of your treatment.
Book an Appointment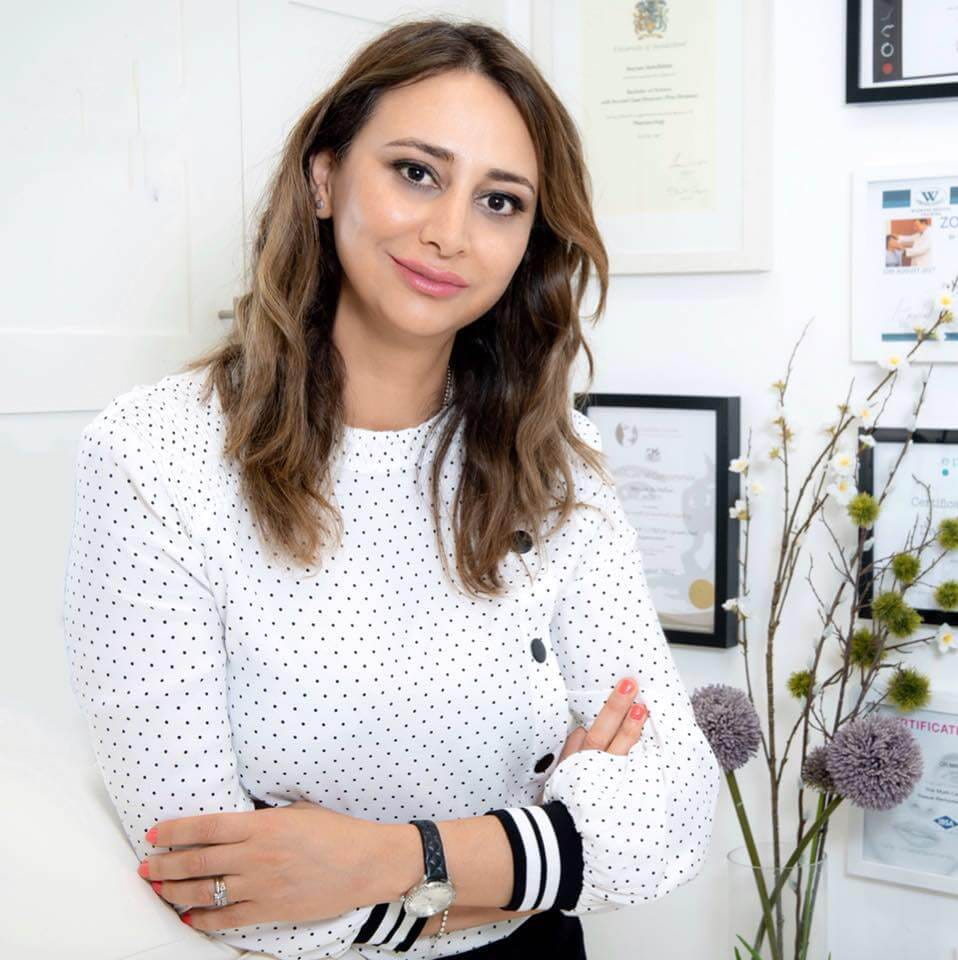 How will I get my Teeth White?
· Thoroughly clean your teeth before each use. Use approved dental floss if necessary. Rinse off toothpaste.
· Fill the supplied bleaching trays with a small amount of our whitening solution. Do not overfill the tray, as this will be forced out over your gums when the tray is inserted. Aim to use approximately half a tube or less for each bleaching tray per night.
· Excess material should be removed from the gums with a tissue or a dry toothbrush after you have inserted the trays.
· The filled trays are usually worn overnight. Do not eat, drink or smoke whilst wearing the trays. Most patients report a noticeable effect in whitening after just four treatments.
· Rinse your mouth with lukewarm water to remove any remaining gel when the trays are removed. Wash the tray with cold water and dry thoroughly with tissues before storing.
· Some sort of sensitivity is normal for the whitening process. It usually only lasts for a few days after the duration of the whitening period. Due to this sensitivity, you may choose to wear the trays less often. This should still achieve a gradual change in the tooth whiteness.
· If sensitivity is intense, then the trays can be filled with sensitive toothpaste (such as Sensodyne) and worn for a few hours.

· When you are happy with the new white colour of your teeth, you may stop using the trays. Remember that the natural colour of teeth is never pure white. The whitening gel will lighten your teeth, but not necessarily remove all internal stains. Crowns, veneers, fillings or root surfaces will not lighten with the gels and trays.
· It is not necessary to lighten the back or molar teeth.
· In rare cases, an allergic reaction to the gel may occur. You will have widespread swelling of the mouth and some discomfort. Discontinue use and contact our dentist.