Empowering both men & women affected by hair loss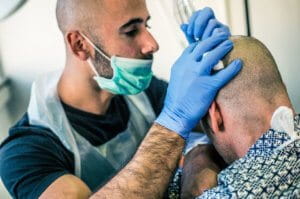 Scalp Micropigmentation has become the world's most effective solution for receding hair and hair loss.
Sometimes referred to as Scalp Tattoo, Hair Tattoo or Hair Loss treatment, the Scalp Micropigmentation (SMP) technique changes lives whilst restoring your confidence and self-esteem.
By creating a "follicle look" throughout the balding, receding or thinning areas of the scalp, we can either a) create the look of a full head of short cropped hair or b) add density to thinning areas to give the look of a full head of hair and style.
See "your questions answered" for popular questions about Scalp Micropigmentation

Get New Hair
Actual price determined on consultation.
NOTE: £100 deposit is required (refundable against treatment)
Depending on size of area we recommend either 2 0r 3 treatments for best results.
What is the Scalp Micropigmentation Treatment?
During SMP treatments, tiny levels of Pigment are placed in the upper levels of the Dermis. This is done with a our skin technician's delicate hand and her artistic approach. Compared to Semi-Permanent makeup or regular tattoo work, the penetration depths and correct safe inks are absolutely critical.
Scar Camouflage with Scalp Micropigmentation
Having hair that is short or cropped can leave scars prominent. Our Scalp Micropigmentation (SMP) technician is able to delicately deposit pigment into the scar tissue and surrounding area to help blend and diminish the visibility of the scaring by matching colour and creating the look of follicles. You can expect to see up to an 85% improvement in scar camouflage.
What we recommend you do now:
The starting point for any Scalp Micropigmentation treatment is to have an in-depth consultation with our experienced pigment technician. This consultation will include an understanding of your wishes and be able to answer all your questions with regards to the procedure and the outcome etc. Consultation fee is £45.
Book for New Hair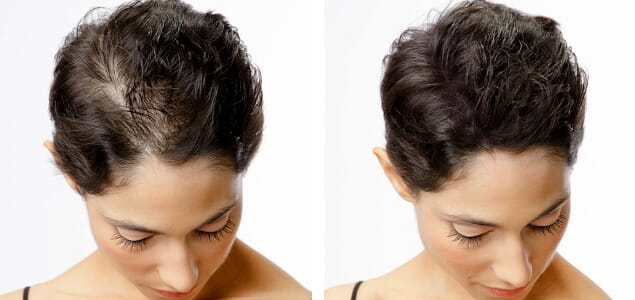 Consultation and Realism
We are a multi-award winning and a leading Hertfordshire SMP Clinic . We totally understand the importance of a full in-depth consultation to answer your questions and to find the look and feel of "new hair" that is right for you.
Thinning Hair on Men and Women
We have an excellent understanding of follicle simulation, skin types and skin undertones. For ladies and men, we will leave you with a natural (we have a 40 shade colour system) clean looking appearance. Results can be undetectable when distinguishing between a real hair follicle and a replicated one.
For those men or women with long hair that has now started thinning, we produce the illusion of density and volume by placing pigment between the hair follicles on the scalp. No contrast between thinning hair or lost hair is then visible.
Alopecia Hair Loss
Alopecia Areata is the most well known form of Alopecia and can occur on the scalp, beard, eyelashes or brows. Brought on by an auto-immune disease , white blood cells around the follicle can cause inflammation which lead to hairs becoming weak and falling out – this causes bald patches. Scalp Micropigmentation is delicately used to camouflage the areas where the hairs and follicles are missing.