Probably the best everyday sun protection there is. Used by thousands of advanced skin therapists worldwide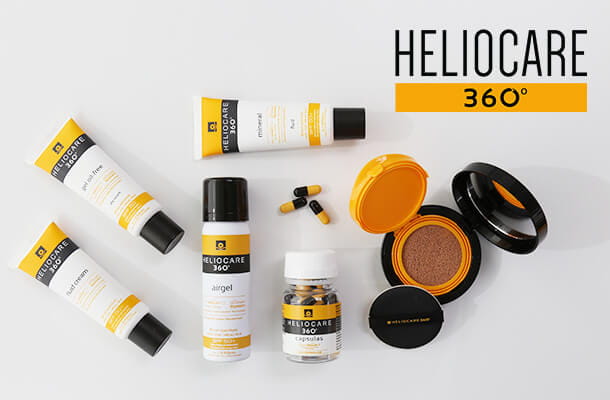 We love promoting
Heliocare
at our Hertfordshire Skin Clinic. Not only is it's range of
high factor SPF
developed to protect from the harmful
sun rays
but is actually
great for your skin
. It will let your skin breathe to allow all the goodness of your new great skincare regimes to keep on working.
Heliocare 360º has an exclusive formula that provides the widest coverage protecting from all solar radiations: UVA, UVB, visible and infrared. It helps neutralize and repair damage produced by solar radiation thanks to Fernblock® FC (enriched with ferulic and caffeic acids). It also includes wonderful other active ingredients like Vitamins C and E, green tea and roxisomes.
Get Better Skin
Regarded by Many as the Best SPF+ Sun Protection
We and other Dermatologists recommend using a sunscreen with an SPF of at least 30. An SPF of at least 30 will blocks 97% of the sun's UVB rays. Higher-number SPFs such as an SPF 50, will block slightly more of the sun's UVB rays. A natural mineral based skin caring brand such as Heliocare, means you get protected whilst maintaining great skin.
Do speak to our skin technicians about which Heliocare SPF products would be best suited to you particular skin type. They can also discuss the natural benefits to your skin that the Heliocare range gives you.
Heliocare is perfect to apply every single day and especially necessary after treatments such as Chemical Peels, Microneedling and Plasma Fibroblast treatments.
Heliocare Products Examples
Protects against UVA, UVB, visible light and infrared-A with SPF50 and PA++++
Supercharged anti-oxidant Fernblock® protects skin health
DNA repair enzymes
Additional anti-oxidants Vitamins C & E plus green tea extract
Oil Free Gel
Ultimate Skin Protection
An ultra-light mattifying gel that melts into the skin with a dry-touch, matte finish. Great for all skin types – particularly oily, combination or spot prone skin.
Heliocare SPF Mineral Sun Protection for:
Normal / Combination Skin
Oily Skin
Dry Skin
Spot Prone Skin
Sensitive Skin
Keep yourself free of sun damage and free radical damage and apply Heliocare every day for all round skin protection.
Get Better Skin
Water Gel
Ultimate Skin Protection
An intensely hydrating, water-based gel that absorbs quickly into the skin with a barely there, matte finish – perfect for those who layer multiple skincare and make-up products in the morning. Its advanced hydration system helps to retain hydration while also providing skin with a barrier against pollution. Suitable for all skin types, even the most sensitive of skin and for use around sensitive eyes. The completely clear finish also makes it a great choice for those with the skin of colour, and a popular choice for men.
Mineral Tolerance Fluid
Ultimate Skin Protection
A light, breathable fluid with mineral-only filters that absorbs quickly into the skin with a silky finish. The Heliocare Mineral Tolerance Fluid is fragrance free and tested on the most sensitive skin. It dries completely clear and so it is the perfect choice for those with skin of colour, as well as being a popular choice for men.
Beige Colour Oil-Free Gel
Ultimate Skin Protection
Combines foundation coverage and protection in one, beautiful product. This light, easy to blend fluid provides natural-looking foundation coverage with a matte finish in three shades; pearl, beige and bronze.