HD Brows – Let Your Eyes be the Focus
When it comes to being confident about the way you look to others, the eyes are probably the most important feature of your body. The eyes say so much. The Brow tinting brings your eyes to life in a professional, affordable and glamorous way. HD Brows eyebrow shaping and tinting treatments allow your eyes to become the focal point of your face. The unique process in our beauty clinic include tinting, tweezers, waxing and shaping to give you instant perfect eyebrows.
Book for Beautiful Brows
Bespoke Brows – Because You Are Unique
Our expert therapist is able to use your facial features to give you the perfect brow shape and colour, to match your eyes, hair and skin tone.
We don't believe in a one shape fits all. Brows are as individual as fingerprints and so each step of the HD Brows treatment is completely bespoke, from your personal consultation to the shape design, tailoring and the aftercare process.
HD Brows
Your HD Brows are totally tailored to you. There is not a brow stencil in sight. It is so much more than a standard eyebrow tint and wax. Your master HD Brow stylist combines a unique design formula with custom blended colour, hair removal and make up application for brows that suit just you. She will work with you to create your perfect look, whether you wish to tame bushy brows or regrow over plucked eyebrows.
Get Beautiful Brows
HD Brows Express
HD Brows Express is designed for maintaining groomed brows between your Brows appointments, as a quick tidy up.
HD Brows Lightening
As the name suggests, the main purpose is of the treatment is to lift the pigment from the brow hairs to create a lighter colour. This can be used on everybody, whether you wish to go much lighter or just one or two shades lighter. The colour achieved after lightening will be a warm tone, but these tones can be cancelled out to create your desired colour.
It is also perfect for anybody with unruly brows or thick, coarse hair.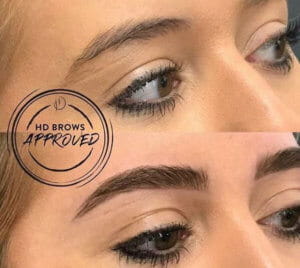 HD Brows Extensions
Brow extensions are great for everyone looking to get fuller brows for a big event. They are ideal for brides, wedding guests or anyone attending a special occasion who wants thicker brows instantly.
More than just a pre-party treatment, they are also fantastic for anyone interested in investing in a microblading treatment. It gives you the chance to see what the results might look like and get a feel for your new brow shape and size.
The Brow extensions typically last between 24 to 72 hours.
What we recommend you do now
If you have never had HD Brows before or have not had the treatment in the last 6 months, you will need to book in for a patch test. A skin patch test is necessary to determine whether the treatment is suitable for you. It is also another chance to ask any questions and see some recent results and testimonials we have had.